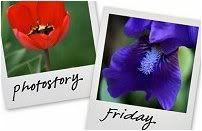 Hosted by Cecily and MamaGeek
OK I promise this will be the last Foto Friday about my cruise. I'm sure everyone is tired of reading and seeing it!
The MS Veendam
All the halls in the ship look very familiar.... if one were a drinker, one could get lost quickly! Thankfully, we don't drink and therefor did not get lost.
Our cabin door: 159 veranda deck.
Our cabin.
The bathroom
An attempt to get the whole thing. In the tiny corner of the room that you can't see, that is where the toilet is, set at and angle in the corner. A very cozy room.
This area was labeled 'teens only'. Um, yeah I don't think I'd be letting my teens up here unsupervised! Nope Nope Nope! Oh yeah, thankfully I left my teens, tween and littles all home with my parents! There was one teen up there relaxing. This cruise had very few children and teens on it.
The first day before shoving off, there is a manditory lifeboat drill. Don't they look so comfy? :)
Waiting in the Ruben's Lounge for the nightly show. Most of the shows were prefaced with 'no recordings or photos may be made or taken of this performance'.
Our tour group met a few times during the week for lectures and or movies.
We dined twice in the 'fancy' restaurant, Rotterdam Dining Room. The second night was the master Chef's Dinner. The servers and chefs put on a show while you dine featuring your dinner. Don't I look cute in my chef's hat? the rest of the table were party poopers! But we did have enough hats to take one home for each child.
They paraded all around the 2 deck dinning room. We being 'open seaters' were seated on the lower level (The food was all the same no matter where you sat. You just didn't have to wear formal attire on the lower level. You did have to wear long pants and a polo type shirt for the men. They seemed to be more flexible with the women, as I was not asked to change and came wearing shorts to the knee. This is a sore subject with Troy, as he was asked to change when wearing shorts to the knee.)
In they danced with the napkins.
They made a big flourish to place it in your lap.
The music was such that our friends danced in their chairs!
In with the next course.
In case you need to know how set a formal table. It does look very nice set this way but who has time on a daily basis?
More dancing and twirling with the salad fixings.
There were musical numbers.
A few of the servers really got into the dancing part.
And for dessert: white chocolate chef's hat hiding a chocolate cake.
More songs.
The finale.
Pretty isn't it? Very tasty too.
The Veendam dancers and singers.
This was the only performance that we were encouraged to take photographs of after-wards.
Each evening we were greeted by a different towel animal. They also offered a towel folding class one of days and you could purchase a book, which we did for a gift.
Looking straight down from our veranda.
Troy and I enjoying the fresh sea air.
This evening they had a game show: Call My Bluff. It was similar to Balderdash, where a word was given and each of the three presented their definition and you voted with applause on the right one. We learned interesting things like the word for a person born with only one buttock.
And as is being demonstrated in these shots, there is a word for the movement women make while trying to get into the dreaded pantyhose!
He continued to wear the hose, it was hilarious!
We also learned the meaning of the word fullfart (...it is OK if you want to go grab your dictionary and look it up...)
Another evening we were greeted with this cute puppy.
Then we found this guy hanging by his fingers!
In the midsection of the ship is where you will find the shops, casino, bars, lounge front desk and library. Running for a few decks is this ladder.... named Jacobs Ladder.
This old trunk was pretty cool and heavy.
Our last towel creation a cute snail.
Notice the guy in the bathrobe? He spent the entire week wondering around in this get-up!
He's another shot. We spent the whole week trying to catch a picture of him unsuspectingly. You'll notice that in the first shot that I was caught by those around him in line. We speculated on what he was or if he was wearing anything under the robe.
The last few hours before disembarking in Tampa, we found him in the library.
I guess he could have been wearing his 'Daisy Dukes' under the robe. I wonder if we were the only ones to find is outfit entertaining? Were we the only ones to take his picture. Poor guy, a celeb with out even knowing it!
I commend you for enduring this cruise marathon, next week something else.