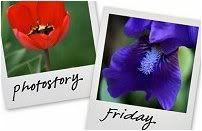 Hosted by Cecily and MamaGeek
Picking up right where we left off last week, we have the view straight down from the Howler monkey's tree.  Quite the drop, as the tree is growing on the top of a building.
Looking out across the top of this large building we see (above) the remains of perhaps rooms that were once a part of this structure.  
Another room?
The gal in the pinkish hat and I snuck around the side and headed for the steps.  In order to get up to the top, you had to pass through a narrow walkway -- one person at a time.
This shot and the one above are from the top of the building where the Howlers reside. Oh what a vast city this must have been.  I stood here trying to picture it as it might have been thousands of years earlier.  The people going on about their daily routines, the weary travelers just arriving in the city.
Were these doors? Windows? Who stood here?  What were their thoughts? Concerns? 
Looking up the steps to the building, see the man in the dark shirt?  He is standing in the passage that leads to the Howler tree.  It was taking too long for the others get down to wait and get the shot w/o people.
Down on the flats, there were several smaller buildings.  Were they houses?
If you enlarge this photo,it will tell you that the palace was begun in 600 AD and that it underwent several modifications. 
The palace from below, a massive structure.
Across from the last photo, you find that they are actively restoring the building here at Kohunlich.
A small temple, across the courtyard.
Close up on the workers restoring the structures here.  We sat on the steps listening to a lecture on the area, my mind continued to wander and wonder.  There was SO much to see and not nearly enough time to see it all. 
What do you see in this photo?  Not mine, my father-in-law's photo, I was too busy climbing temples and taking photos to have even seen it.
Next week we will finish our visit to Kohunlich.