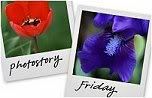 Hosted by Cecily and MamaGeek
The next day we tried to visit ghost towns in the area. We found that things have changed since I was younger and that the 2 ghost towns near the Caverns have become very touristy.
We visited Virgina City, MT which was once considered for the state capital, but Helena won out and Virgina City died out. Today there are shops and several old places in different stages of restoration.
A pair of long undies hang behind the glass at an old shop. It was difficult to get good pictures through the glass, but I gave it a go!
This is the door to the print shop/ newspaper.
As we were heading off to see more of the town, I noticed that the glass was broken in one of the windows at the print shop. So this is my attempt at a creative shot.
There is a museum/store that was quite interesting. This baby buggy was on display there.
In the basement was a wagon, when I looked for a good angle on the wagon, I saw this comb chained to the undercarriage. Guess it is hard to loose when It's chained down, huh?!
Farther down the boardwalk was a candy shop. We all enjoyed a stick of the sweet stuff while watching the taffy being pulled.
This old prospector came over and visited with us for awhile. Robby was handed his walking stick to hold while he chatted. Em walked up and petted his burros.
We made a stop at the court house which is still in operation.
Inside the front doors we found this beautiful grand staircase.
Kids will be kids --- Hosanna, my niece, and Cody HAD to slide down the rail! Cody was very quick and kept running into Hosanna! (Technically, Hosanna is NOT a kid!)
As we walked down the other side of the street, we happened upon this old Ford.
The side of this building caught my eye.
Don't you just want ice cream now?
Outside of a shop was this sign..... I like the colors and the old look it has.
A glassed off old general store. Many of the building looked like the people had just walked away.... they are windows to the past.
Cans of food still stacked on the shelves..... They have added plastic fruit to complete the picture.
I just loved this display of the Easy Walking boot.... I don't think that would have been 'easy walking' though, I would love to have a pair!
A little boy's outfit.
An old barn in need of much repair housed a buggy, wagon and this sleigh.
Standing at the train depot/ snack shop we turned in time to see this couple ride by in period clothing. There is a shop here that sells period clothing...... too expensive to just buy for dressing up though! The train will take you a short distance to Nevada City the other ghost town. We opted to drive, had a quick lunch under the trees and went to the music hall.
This thing was LOUD! Many of the music machines are coin operated
Cody dropped a few and Em danced her heart out!
We didn't go through the open-air museum in Nevada City since we had spent quite a chunk of change to see the caverns.
We had a nice time camping and checking out the area.
Join me next week for the first day of school!