While sorting through and converting the format of my recent photos (from Aug to present) I ran across some not so perfect, perfect ones:
First up, I give you this very blurry one of Shantel. But look at the personality that is showing through..... She just grabbed the props and had fun, too bad mom is not so good with the quick shot!
Next, Trunk or Treating 2009. Shantel invited two friends and they were hanging out in the dark. I failed to open the flash so my not so steady hand captured this interesting shot. Probably I'm the only one who can enjoy this shot, and that's OK! The ghosty figures of Shantel and her 2 buddies.
This last one was taken in the hour I spent in Kindergarten helping with Centers on the 23rd of Oct. I was trying to capture Scott in the midst of his learning. So to me this blurry photo is the constant motion of childhood and their eager quest for knowledge.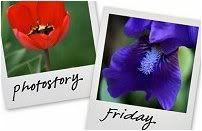 Hosted by Cecily and

Carissa