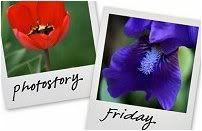 Hosted by Cecily and MamaGeek
Summer has arrived in the form of an evening in the water! It really wasn't all that warm by 6:30 pm, but as I turned the tractor sprinkler on in the front yard (which has yet to by plumbed with an underground sprinkler system) they asked repeatedly if they could just run through it.
Who could resist? Robby went first.
Followed closely by Savanna.
Em wasn't as confident, so Savanna gave her a little helping hand.
Scott needed no encouragement! He jumped over with both feet!
OK OK who's going next?
Cody drew the short straw and went at it like a kid and not a near grown young man!
And finally Shantel took a turn. She wore her jeans and swim top... she is not keen on the attention a swim suit draws. (As in, the car load of teenage boys that drove ... I mean crept... by and came back for a second glance.... for that matter, her mother is also none too keen on the attention either!)
While they ran and played, I raked the dirt smooth, readying it for grass seed. They got empty ice cream buckets and had a full out water fight. Willingly kneeling down for a dousing!
They were having a blast...or rather a splash. I shot a few photos, went inside to put away the camera and wisely removed the phone and other items in my pockets. The photos we don't have and never will, are of what happened next....... I stepped one foot on the grass and was bombarded! They totally soaked me! The water so SO very cold that I was gasping for breath! While I was thus is the act of trying to catch my breath, Cody gave me a bucket full of water right to the face! Oh yeah, I was sure I'd never breathe again! Once I found I could draw in air, I ran inside and exchanged my wet clothes for my swimwear and we spent an hour dousing one another!
Yep, summer has arrived!