OK here's my first Foto-story Friday:
We were at the 4th and 5th grade field day on May 21st. Here are a series of Scott shots.... He is my little poser. He spent the day saying: "Take my picture, take my picture." He'd just strike a pose and holler for me to aim the lens in his direction. Of course, in this digital age of instant gratification, he then had to run and see just HOW the pictures turned out. He's a funny kid.
Come join the fun.....
Rules:
1. Post a photo (recent or not) that YOU took and
simply tell us the story behind it. It could be the
reason you took it, a story it reminds you of, or just
why you love it (or why you don't). Any subject.
Humor, optional. The shot doesn't have to be
creatively or technically perfect. Because life isn't.
2.On Thursday night
Cecily
and
MamaGeek
will both post a Mr. Linky and
some code so you can link to your direct post.
3. Keep it clean or get deleted. Have fun!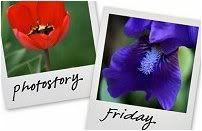 Hosted by Cecily and MamaGeek