When we first moved back to Montana, we lived out on a farm and Troy worked for the farmers as a farmhand/mechanic all around go-to guy. They provided us with a single-wide trailer with a good-sized yard. It was a different kind of life style, which I can now say that I'm thankful for the experience. But at the time it was very hard. Having come from my new beautiful home in Vegas
to a single-wide older trailer home.
It was, to say the least, a bit depressing. As you can tell from the picture, we moved there in winter. By summer, things were getting better. I'd taken the kids on 2 road trips to visit with cousins and we'd gotten a puppy. One day I walked into our bedroom and my foot sunk into the floor. After mentioning this to the farmer's wife, she sent her handyman son out to check into the problem. We heard that he, at first, told his parents that our pup had wet on the floor causing it....but after further inspection:
A cracked pipe had totally ruined the floor and walls of the whole back end of the trailer. Now this was a 3 bedroom 2 bathroom house for 6 people! So what do you do with ALL the stuff from half the house? Answer:
Are ya seeing anywhere for the people to sleep? Yeah, me either! Plus the water was turned off for so many days, I've lost track now! The bishop at the time offered us some rooms at his house and so we camped out there at night and had to come back out for the kids to attend school. Ya see, the deconstruction:
reconstruction:
took a LONG time and school had started! I was less than happy! Finally Their son go the walls up and the house mostly put back together. When we left the farm in mid November, there was still no carpet in the hall and it was not completed.
*
The photo that inspired this story is the filled front-room, but since I felt it really required more photos to properly tell the story, this is what you get!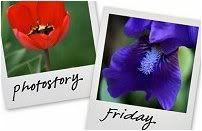 Hosted by Cecily and MamaGeek