Because I love the sky I have to check it out daily... many times daily. I very easily could take sunset pictures every day for each is beautiful and a little different or a lot different depending on the clouds, and the angle of the shotor the direction you're facing.
Forbidding morning clouds. As I stepped into the car to ride to seminary with Cody one morning, I saw these clouds and was sure we were in for rain..... turned out to be a beautiful sunny day~!
The sunsets over the Yellowstone River. The colors reflected so nicely that evening.
Although there is a shopping cart in the corner of this shot, I like the beautiful pink sky and farmstyle house framed by the trees. I took another shot and didn't get the cart, but it cut too much tree off. I'd edit the cart out but currently I have only one bad program and it doesn't allow you to have much control. This shot is facing east. I do love it when the whole sky gets to participate in the setting sun.
This is the same sunset a few minutes later and facing west in another location in town.
Another view of the same sunset facing south. I liked how the sliver moon was surrounded by pink and blue. I stood in the same spot to take this one and the previous shot.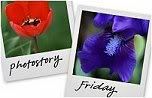 Hosted by Cecily and Linds