So around the first of September they decided to tear up our street. Wouldn't be the time of year I'd have picked in Eastern Montana, but whatever!
As we watched the progress daily and I snapped a few shots of the big machines making a ruckus out front I began to see it differently.
It started to look like a loud dance performed by huge pieces of equipment. A scoop here..
a lift there carefully directed by the guy on the ground...
a back-fill and compact there.....
A scrape here as the bucket gets empty....

This picture reminds me of the book:
Are You My Mother?
just looks like the Snort is ready to drop off the baby bird right back in his nest.
The sound of the dirt filling the bucket.............
Little tighter action shot of the scooping up of the dirt.
The bucket starts to be in the way, a tiny lift and drop (which totally shook the house), all part of the well choreographed dance.
move the dirt from here to there.....
This thing is made to make it safe for the workers to be in the trenches and position the pipes. It was kinda cool to watch them scoop it out and see the guys head down.
The dance continues, turn, lift, dump.....
A shot through the front screen door...
The other dancers are working on their moves with a little smaller trench retainer.
The smaller trench wall retainer.
I liked watching them pick these up, they were so heavy that it lifted up the back of the excavator..... a bit unnerving when it is only feet from your yard/house.
The sound of the saw as they cut the pipes to fit all parts of the intricate dance of construction/road work.
So it is nearly Nov and the road is still not finished..... the dance has not ended.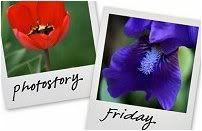 Hosted by Cecily and

Kelli