I have been wanting a new look for awhile now, finally on Tuesday I went and did something about it. I just knew that I wanted it short. I was looking thru the magazines and the stylist came over and asked what I had in mind. I told her I wasn't exactly sure but that I wanted it short. She said that she thought I'd look good with a cut similar to one Lisa Rinna had did I know what hers looked like? I said I think I remember that look.... I trust you go ahead and do it.
Then the stylist said she really wished she could take before and after shots of me. Being me, I almost always have my camera on me, so I opened the bag and handed her the camera. After a short lesson, she took my picture, wet my hair down and got to work with the razor.
It's not styled like Lisa's but I do think the cut is similar, and I like it. Looks better than the long stingy stuff, huh? I do it a little different than the gal who cut it, I like a little more bang on my forehead.
Styled by me.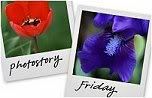 Hosted by Cecily and Carissa