A few weeks ago,
The Missoula Children's Theater (MCT)
was in town. All the local kids that were interested arrived at the high school for try-outs. This year thankfully we had a small number and everyone got a part. It is no fun when you get cut ----- trust me I've been there, done that. When I was in grade school, the MCT came to town every year and I would always try out. I once got the assistant manger part, I was SO excited! When practice was over, my big brother, Brandon, came to pick me up, because my parents were out of town. He was chewing gum and I really REALLY wanted some.... well, if you have a big brother or are a big brother, you can probably guess that he didn't just hand it over. He ran up the wall and placed it on the back of the basketball hoop and said: "If you can reach it, you can have it." Not wanting to let a challenge pass, I tried and tried to get that stick of gum. Brandon eventually had to lift me up to reach it. The trouble started here.... he let go of me thinking..... who knows what... I, of course, was not holding on to anything and came crashing down, landing strangely and broke my ankle. Guess what? If you have a broken ankle, you can't be in the play! That was the one and only time I ever got picked for a part in the play. Robby has also experienced the getting cut, so we were all happy when no one was cut this year. My kids have been much more fortunate and have all gotten the opportunity to be in one or more MCT productions. The girls didn't try out this year because they are in volleyball. Cody is too old now that he is in High School. So that left the 3 youngest to give it a whirl.
The play was Robinson Caruso. After 5 evenings and one day of intense rehearsals, they performed to a near full house.
Robby was a member of the Very Hairy Frownie Face Tribe. They were cute and Robby was SO loud! We had NO problem hearing him.
After many years of having a child in the play, I stayed and watched the try-outs. It was way fun to watch them saying lines and trying to be loud.... which they have no problem with at home! Scott and Em were chameleons and they were too cute up there on stage singing and dancing.

The little guys are always my favorite, cause they are almost always off step in their dancing or just plain doing their own thing and it makes me smile!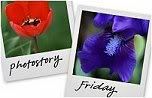 Hosted by Cecily and Angie