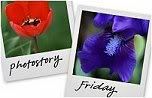 Hosted by Cecily and MamaGeek
Well day 4 was Sunday. After church and dinner and lazing around for awhile we decided to take a short drive up to This is the Place monument. It was a place my sister had never taken me in all the summers I spent with her in Salt Lake.
I was amazed by all the statues and monuments. Since it was a Sunday we could just wander around reading the inscriptions.
There is a huge handcart. I'm pretty sure it's not to scale but it did make for some neat pictures.
I even got a shot of myself! I was standing there reading and being teased about reading SO slowly when I saw myself and could not resist capturing the moment.
This is the huge central monument. I did take shots all around it, but chose to just give you the frontal view. It's quite amazing.
From there we drove to Ensign peak. We were not feeling ambitious enough to hike up to the top. We did park in a no parking, no standing zone (sorry if you happen to have a house right at the end...)Ensign Peak is where Brigham Young and others went to look over the valley and plan it's layout.
You can get some great views of the Wasatch Front from here.
And the Sunset was to die for....
completely stunning.
The view of the city is fabulous. With a pair of binoculars, we could see 4 temples from here. Temples are dotting the earth!
(still working on the pictures... these I remembered I had posted on facebook!)