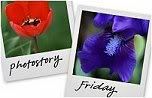 Hosted by Cecily and MamaGeek
We took a little trip with our friends, David and Heather, to Salt Lake City.... but we went through South Dakota. Not strange you might say, but it is, if you happen to live in Eastern Montana. We made this a trip of firsts.
As we left town-- Eastern Montana.
Somewhere in South Dakota, we saw this line-up of fire trucks. I barely got them as we flew down the freeway at 80 mph.
Storms were rolling in.
This is a huge cemetery near Rapid City South Dakota.
Entering into Mount Rushmore National Monument. The bridge is very cool, but kinda hard to capture from the backseat with the rain coming down.
We sat in the truck waiting for the rain to let up, then made a break for it. the flags are pretty cool, lining the path up to Rushmore.
We bought some umbrellas and shortly thereafter it stopped raining!
The crying presidents.
Backed off a bit. ( I took tons of pictures so that I'd be sure to have the perfect one.....) I do like how the rain made streaks across their faces.
Thanks to Heather for snapping our picture to prove we'd been there.
How would you like to hang from this while chipping away at the mountain creating the monument? .... yeah not me either! :)
The last glimpse of Washington as we left.
Off on the next leg of our adventure. We were once again chasing storms. We hit this one smack dab in the middle!
It was coming down so hard that we were forced to pull over and wait it out for a bit. This is the view through the windshield.
Sorry about the quality, but we were driving again and this is all run off from the storm! There was even a little waterfall!
As we approached Casper, WY another storm was brewing. We spent the night and rested for the next days adventure..... stay tuned next week the story continues!