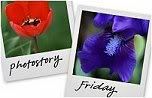 Hosted by Cecily and MamaGeek
When my sister and our oldest niece were here, we went up the road into Makoshika State park to play photographer. She posted some great shots
here
. Following are two of the over a hundred that I took.
I just love the rings of color.
I love how those huge rocks balance for years on the small pillars of sandstone. Makoshika is kinda like Montana's secret.
Monday morning, Troy said:"Let's go for a drive. There's this cool old car out in the middle of nowhere that you can take pictures of." I'm always up for taking pictures. We loaded the little kids up after sending the big boys to the pool and headed out in the country. Only problem was that the cool old car was gone! Troy couldn't believe it. It had sat on that corner for many many years.... as in it was part of the directions to get to this farm or that one. So we continued on..... it was a good thing he was driving, or we might still be out there wandering the dirt roads!
We found this cool old church at the intersection of two roads.
This bumpy less traveled road takes you to a place called Johnson's Reservoir. Where after a short hike, you can fish. We stayed in the truck, it's snake season, ya know! :) (It continued on, but we turned around.)
Several turns later we came upon this old farmhouse.
Just down the road within sight is another old farmsted. I loved this house and took a few different angles on it. I love the dead tree in the front and the bright red brick chimney. But I really like it in sepia.
This is the front porch screen door and I love it, like a door into yesteryear. So many stories it could tell.
Hanging on a fencepost waiting to be picked up by the farmer/rancher was this roll of barbed wire.
Tuesday we took another road trip, this one east into North Dakota. (These last photos were all taken out of a moving vehicle cruising down the freeway at 75-80 mph.)
The North Dakota Badlands.
The Theodore Roosevelt National Park is right along this stretch of freeway. One day we will actually stop and check it out. Also this area is the National Grasslands. They have a big fence and the buffalo roam in it. This was the first time I had actually seen the buffalo there. (The National Bison Range is in western Montana, which I have been to several times.)
On the ride home we watched a storm roll in. The clouds were interesting to watch.
As we rolled across the MT border, the sun peaked through the clouds affording the above shot.
Shortly after-wards, it dumped big time on us!
This week I have seen beauty all around me in nature and man-made. Enjoy the beauty that surrounds you!