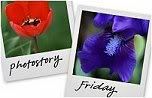 Hosted by Cecily and MamaGeek
(A lot of pictures this time, cause I wanted to finish up our trip.) Monday morning we packed up the truck and headed to Provo. We were supposed to be headed straight home, but decided to make a change of plans. Heather really need to see a chiropractor and family recommended one south, so once again we took the long way around! We made a stop at IKEA, interesting place. We picked up birthday gifts for the twins and had lunch. Guess what, you can see the
Oquirrh Mountain temple from there. I know you're probably thinking I'm crazy, but look closely .... there in the center far off in the distance, it's there. (need a better zoom-- if you enlarge it, you can see it! ) Then we headed over towards the Draper Temple to see all the houses that were never finished.
An abandoned castle at the top of the hill. I like the looks of it in black and white ... gives it a creepy quality..... like an old black n white horror film. I would have loved to taken a peek around, but I didn't think my driving companions would have gone for it..... something about laws, whatever! The house across the street also not finished was just recently reduced to 3 million! A steal, I'll take two!
Just down the hill from the castle is this beautiful temple in Draper UT. Too bad this truck was parked in the way.
We HAD to stop at Cabela's for the experience, ya know! It was mine and Heather's first time in a one, there is a lot to experience. The lamp posts in the parking lot.
I was doing my best to capture every temple I could from the freeway! Here is the Bountiful Utah Temple.
Idaho Falls Temple.
We spent the night in Rexburg with David's sister. After dinner we drove up to the Rexburg Idaho Temple and I got out to snap a few shots. I chose this one because I like how the flag is flying off to the side. It was very windy, as you can tell.
We went for a walk after returning from dinner/picture taking and saw this view from behind... set on a hill ......
Next morning we planned on a long day of driving with a few sights in between. First stop was Jackson Hole, WY.
The entrance to the park in the center of town. It is a tourist town for sure. We decided to have lunch in the park.
This cute little guy was running along the boardwalk.
You can rent a ride in the stagecoach for a bit of Old West feel.
I'm pretty sure it is required to take a picture in front of the antlers when visiting Jackson Hole, WY! (taken by Troy)
Jackson Hole Airport.... in the middle of nowhere a huge jet was taking off! I had no idea that big planes landed here!
The Grand Tetons of Wyoming are truly amazing! I took tons of pictures of these majestic mountains. We headed north to Yellowstone. Troy had never been there so we made a "quick" trip through and saw a few highlights. Only there was construction and it took forever to get through.... several stops along the roadside.
Fast moving rivers flow through Yellowstone National Park. They are quite difficult to capture while driving, though!
Old Faithful is the absolute must see when in Yellowstone. We went in and got and ice cream/frozen yogurt, sat on the porch in the rocking chairs and waited for the show. I love to stand back and watch the people and that is the reason I chose this photos to share.
This shot is not clear, but I just had to take it, it seemed SO perfect. He looked so content just him, the pole and the river.
Raging waters. We did see a couple of buffalo and some big game animals. But we didn't stop like the others who were holding up traffic, errr, I mean, enjoying the park and it's many beauties. Really some people don't think, we saw a woman walking up to a buffalo lying in the grass just off the road..... ummm, yeah that is a huge bison and it is wild!
Mammoth is a cool feature and must also be seen. course we didn't stop, we were trying to get home. It was still quite the drive to the edge of Eastern MT from Gardiner. Once we got out of the park, the traffic was backed up for blocks in that little town..... like we spent an hour stopped-- creeping forward. Finally we got up to the pilot car and the notice of construction for the next 25 miles..... yup had to follow the car the whole way at a whopping top speed of 25 mph! yeah so we ended up staying in Billings and getting home on Wednesday!
Thanks for enduring our couples vacation, next week we take the kids on a camping trip!