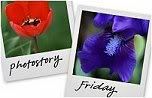 Hosted by Cecily and MamaGeek
On the 3rd day of our trip, being in Salt Lake, we headed down to Temple Square and The Conference Center. The last time I was through SLC I didn't have time to see the Conference Center. It had just opened ... yeah it had been several years since I was there. I was the only one who had never been inside, so we took the tour and now you too can enjoy a few of the sights.
Inside the main theater of the Conference Center. This is huge. We were blessed to hear the organists playing patriotic hymns.
Looking down onto the fountain.
Looking across the cool water element at Heather and her in-laws.
Looking up from the fountain area.
Taken from upstairs, looking up into the intricate skylight.
We were able to go up top, which is very cool. Unfortunately, I was too busy taking pictures to learn anything.... I really like the water elements and plants on the roof. I did learn that they are planted in a crushed shell "soil".
We wandered over to the Tabernacle and also got to hear someone playing the famous organ that accompanied the Mormon Tabernacle Choir for countless years.
It just happened to be the 4th of July so we enjoyed the fireworks that our hosts shot off in the parking lot.
for a little kit, they were pretty cool.
There was a beautiful sunset over the valley that Independence Day.
As it got dark we decided to head out for some Baskin Robins located near a huge park. Having spent many summers in SLC, I knew that the parks put on dang good fireworks shows.
We were fortunate to get a parking spot and enjoy the aerial display.
The grand finale.
(Hopefully I will have found a way to get the rest of my pictures and finish our trip next week.... my little Mac died and now I've got my pix on an external hard drive and no way to get them off...... Wish me luck!)