Thanks to a high schooler who also has an early morning religious class, seminary, I have been forced... er, blessed with the opportunity of being up before the sun rises. Tuesday morning dawned in radiant splendor! I could not believe how bright and beautiful the colors were. It is difficult to get him to class on time when I really just wanted to have him pull over so I get out and compose a shot or 20! The morning sky changes SO much faster than the evening sky. The bright colors quickly fade and are gone in a matter of seconds.
That same evening the setting sun put on its own display of colors. Evening sky usually gets more colorful as the minutes pass and the challenge is not the loss of color but the loss of light in which to capture the range of colors that have appeared.
May we each take a moment to enjoy the sky whether you are a morning or an evening sky the beauty painted there is calming and inviting.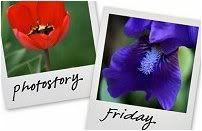 Hosted by Cecily and

She's a moron and can't remember...