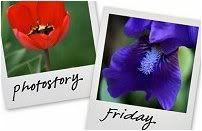 Hosted by Cecily and MamaGeek
Our bus driver and our very comfy bus.
As we left the ruins, we were stopped by the banana train.  Each tree produces only one bunch of bananas at a time.  There are quite a few bananas in one bunch though.
Famous chicken place.  People who frequent Guatemala will bring home buckets of this chicken.  They have opened up chains in some of the major cities here in the US, but its been said that the quality is not as good.   
Delivery bikes!
Inside the market, these huge things hung from the rafters.
They have musicians and dancers performing throughout the day.
As we were heading back to the ship, we passed this artist.  He was doing this one from a photograph.  He had several finished works with him for sale.
Santo Tomas de Castilla is the only port in the Caribbean that does a 'thank-you' send off for the cruisers.  
We were fortunate to be the only cruise ship in port that day.
The skyline around the port.   Such a lush environment!
Sunset gives these clouds a bit of color and the mountains silhouetted 
I loved how the mountains look.
After all the dancing, the taxi drivers honk their horns and holler their thanks for you spending money. It was pretty cool to watch.
Getting farther away from the port.
The cargo ships were also in port getting loaded with containers.  That was fun to watch them hoist the containers up in the air and slowly maneuver them into place on the ships.
Another beautiful day!
Next week, Mexico.....