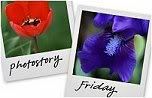 Hosted by Cecily and MamaGeek
So we went camping last Wednesday to Saturday. We met my sister and her family in the middle of Montana at the Lewis and Clark Caverns State Park.
We arrived first and picked out two spaces right next to each other, got our tents up and then it rained.
The color has been boosted as the rainbow was fading fast. It was very cool though because it went in two directions and met right there on that hilltop!
Sun rays after the quick downpour.
It's not camping with out a fire!
The sun sets over the mountains! It is a very pretty area. The campground has a nice playset that the kids spent several hours on.
Cooking dogs, what else do you eat while camping?!
Then next morning after a hearty breakfast, we set off hiking up to the visitor center. The map said a 1.9 mile strenuous hike so the twins hitched a ride in the car with Troy. Somewhere along the way we made a turn..... map said there was a shortcut. Turned out to be a long cut, but it was a pretty hike.
Finally we arrived about 20 mins after Cody and Hosanna who were ahead of us and didn't make the turn.
Waiting for our turn to tour the caverns. After a 3/4 mile hike uphill we finally arrived and got to check out the cavern. I took SO many pictures.... i tried to narrow it down to my favorites:
My niece and I think this looks like a melting ice cream cone.
Troy and Scott pause for a quick "Iwas here" photo.
It was amazing. It had been many years since I was here and I had forgotten so much.
There are a ton of steps and many places where it would help if you were 4 foot tall! But we all made it through!
Around every corner and past every low ceiling was an amazing sight.
some looked so smooth you had the urge to reach out and run you fingers over it..... but to do that, would stop all growth of the formation where your fingers touched.
found on the steps.
Thought this was a cool formation.
At one point in the tour our guide asked for questions and Em raised her hand politely and asked: "Do you have any potties? Cause I NEED to go potty." He told her she was going to have to hold it. Everyone laughed, I was as usual bringing up the rear and missed most of it. Since we had the youngest kids in the group I figured it was her. She did fine and made it back to the potty no problem.
Turned around and saw this.
As we were heading to the exit, I looked down at the steps and saw that they are being taken back by the caverns. This is a place you must see if you come to Montana.