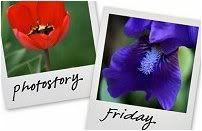 Hosted by Cecily and
MamaGeek
When she was 3 or 4 we had a dog, Buddy. Shantel could look at him and say: "go potty" and that big ole black lab would trot right out to his run and do his business. I would take him to the door in the morning and say: "go potty" and that same dog would look at me like: "and are you who?" He never listened to me, but if she had told him to jump, I swear that dog would have asked "how high?"
Shantel has always had a way with animals. Here she is at 6 with the bran-new colt.
The only person the foal, Diamond, came up to was Shantel.
Page, the mother, watches as Shantel touches her baby. The rest of us tried to get close and Page was right there or Diamond would run.
Shantel has had cats, hamsters and rabbits, they have all just loved her. She just has a way with animals.
Looking at these photos, I said to myself "Wasn't is just yesterday that she was little?" Guess not......
Shantel at 13!