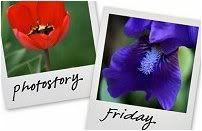 Hosted by Cecily and MamaGeek
March 23rd I got a new toy:
Just opened the box.
Unloading the goods.
What? I thought it was MY toy! Troy took the first picture too, what's up with that?!
Ah what a cute little baby tripod!
My sister and her husband each have a Canon and they convinced me to join them in Canon ownership. I'm enjoying learning how to use the functions offered. I'm
dreaming
of more lenses.
So what have I shot with this baby?
One of my first was of my last year's camera.
I got this nice clear shot of Scott.
Bowl of ice cream anyone?
I don't have a
super zoom
, but I did have fun trying to get a moon shot. It's not really fuzzy, there were clouds covering the moon. I was also playing with the settings trying to get different looks.