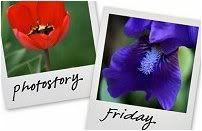 Hosted by Cecily and MamaGeek
We have been trying to working on behavior and respect with this growing boy. He has had to earn his wii time by showing respect for others and being kind as well as listening. He did very well and earned his sticker for 2 weeks straight, so we took him out to dinner all by himself! He picked the place to dine (our choices are limited).
Choosing his dinner.
For starters, salad and orange soda.
Mom and Dad had chocolate shakes, don't they look inviting?!
Finally his steak and fries arrived!
Then afterward we stopped by the Conoco for some Wilcoxsons Ice cream. It was a great evening!