Because no matter how you add it up 6 times even the cheapest package is too expensive! And because I really do want to get better at this photography thing, I took my kids out for a little photo shoot. I had a great place in mind and I wanted to go in the early evening..... but time moves faster than 7 people, we arrived a bit later than I wanted.... As it is I give you my daughters:
EmmaLece the youngest, but very strong willed.
Savanna determined and in charge!
Shantel finding her niche.
Each beautiful in their own ways.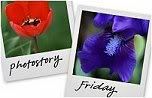 Hosted by Cecily and Izzy 'N Emmy