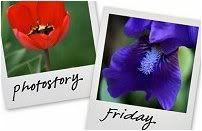 Hosted by Cecily and MamaGeek
Fishing Genes
This is my Grampa Sam circa 1973. There are many things that remind me of him. On Monday I didn't have any extra kids so Troy and I spent the day with the twins. We asked them what they wanted to do, go riding 4-wheelers or fishing. I think we were a little surprised when they both yelled "fishing!" Fishing as mentioned
here
, was one of Grampa's favorite past times.
Here's Grampa Sam sitting outside his home circa 1976. This was his typical attire... that hat and a button-down shirt. I wonder what he was thinking when this photo was snapped.... his garden, his bottles, his next fishing trip or had he just finished singing? I'll never know, I was only 2. One of our favorite things to hear him sing was the ZYX's. Grampa learned his alphabet both directions and he frequently sang them backwards to us kids. He would always ask if we'd learned our ZYX's yet. One time I sat down and did it, I learned them! I was SO proud of my self that I couldn't wait to show him. My sister also learned them we thought we were hot stuff. I remember Grampa was pleased with our accomplishment as well. Whenever I sing the ABC's I have to then sing my ZYX's! I've yet to convince my kids that it is a handy trick to have up ones sleeve. Point in case, in high school we had a history teacher who thought he could pull a fast one on the class. He told us to take out a sheet of paper, then he'd time us to see how many times we could write the alphabet backwards. I kicked butt! (the next year, Ryanne was excused from the exercise .... he wasn't going to be showed up twice!)
But this is a fishing story....
In the above photo, you can just see a man with a fish in the frame. That is Gramp Sam with one of his catches, surrounded by a poem my dad wrote about one of his fishing experiences.
Sam, the Rocks, and the Steelhead
When Sam retired, he moved
to Orofino with his wife.
Lucile worked at the hospital,
and fishing was Sam's life.
It was a good place to live
because the river was nearby,
but Sam did say you had to lie
on your back to see the sky.
The Clearwater River cut a deep
and narrow gorge through there.
To build the highway, they hauled
in boulders, large, jagged and bare.
Sam hiked up and down the river
with his fishing pole in hand.
They bought a little smoker and
Lucile smoked the fish Sam caught,
while Sam spent the day searching
for the very best fishing spot.
Before too long, Sam found what
became his favorite hole,
and those big rocks got acquainted
with Sam and his fishing pole.
Sam hooked a big steelhead one day
at his favorite fishing spot.
The fish was programmed to spawn
and was not about to be caught.
That lure Sam threw out there, that
looked so good, did not suit its taste,
so that fish postponed its spawning,
and headed downstream with haste.
Sam had no time to waste 'cause
that fish moved like a tornado.
The drag on his reel was maxed.
His line was short. Sam had to go.
Over those sharp rocks he scrambled,
he leaped, he stumbled and fell,
and whether he did a flip
or two, he said he could not tell.
But he chased after that fish
and never let go of his pole
until that trout finally
got tired and stopped at a hole.
Sam was standing there huffing
and puffing and looking around,
When he checked out his pole and line,
a huge knot is was he found.
That knot was the size of a baseball
and looked like spaghetti,
and if he untied that he'd rate
a parade of confetti.
With a snarl like that, there was
no way he could reel that fish in,
but for a fisherman, to let
that fish go would be a sin.
Sam found his pocket knife then
cut that line fore and aft that knot,
and the fish resting on the bottom,
was just as good as caught.
Calm as a cucumber, Sam then
tied those line ends together,
then began to work his reel
with a touch light as a feather.
That fish was no different
from the others after it was smoked,
but with each bite Sam ate,
memories of those rocks were evoked.


Copyright 1997 by Daren Flynn


(if interested in more poems by Daren Flynn contact me.)

I think my Grampa Sam's fishing genes got passed along to his great grandchildren. They sat there and waited for those darn fish to bite.
With patience and determination.
Hands at the ready.
But we got dogged.... I think they might have had better luck if I had not been along!